Trials
In Frejus
For more than 20 years, varietal trials, which take place in November in Fréjus (France), bring together more than 400 varieties of F1 hybrid cyclamen (event reserved for professionals).
Varietal trials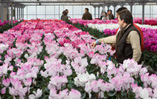 Visitors can evaluate:
the behaviour of new varieties
the earliness
maintaining of lines
Outdoor trials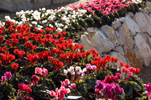 The outdoor trials in Fréjus take place in the same period and allow our cyclamen to be re-tested in more extreme conditions in order to find out:
their resistance to rain
their resistance to cold
the lifespan of different varieties of flowers
Measurements are taken from October to February.
The results of these trials are available on request.
Production trials in the Netherlands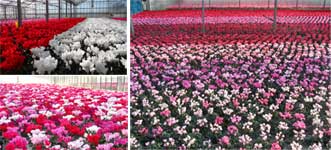 The production trials, take place in The Netherlands, for two weeks in October. They demonstrate the behaviour of our 6 F1 hybrid series in a different climate (Northern European type).
For these trials, over 45 000 plants are produced each year, a full table per variety, presented in a glasshouse of 3000 m2.
Visitors can judge:
the performance of the varieties
the reliability of the colours
the homogeneity of our genetics
The 6 series
179 varieties put on the market since 1989!
An unrivalled creativity for the great satisfaction of cyclamen lovers.

Smartiz®
14 references
Smart & Easy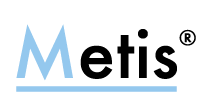 Metis®
43 references
The miniature cyclamen, excellent in both greenhouse and garden.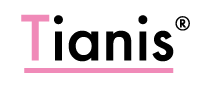 Tianis®
22 references
The midi cyclamen for garden, balcony and terrace.

Midi+®
10 references
The ideal cyclamen for highly visible beddings.

Latinia®
30 references
The COMPACT cyclamen with LARGE flowers.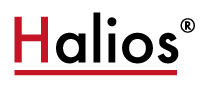 Halios®
77 references
The largest choice among the standard cyclamen types with large flowers.
Morel, creator of innovations!
The first FANTASIA® F1 came on the market in 2005, with a brand new flower shape, original two-tone contrasts. These Fantasia® varieties bring diversity and invigoration to the supply.