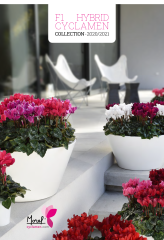 Dear customers, dear interlocutors,
The unpredictable events of this spring have been devastating for everyone, especially for horticulturalists.
Today at Morel, we are dedicating all of our energy to the success of your next season, and more than ever we are here to support you. Together, we can pick ourselves up and come back stronger.
Your 2020/21 catalog is offered in a new presentation, exclusively digital.

https://www.cyclamen.com/flip/en/catalogue/index.html
Fourteen new varieties are to be discovered in this interactive edition. You will easily navigate among our 30 solutions thanks to many clickable links.
More than ever, our creative know-how and the production of quality seeds are our priorities.
After celebrating our 100th anniversary last November, our passion for the Cyclamen remains intact. We are artisans of the living world and we continue to share this link with you.
The beauty of nature and flowers, adding colour to our daily lives, may inspire us and help us to start looking forward to better times.
More than ever by your side, let's cooperate creatively for a better and flowery world!
Ready to take on this challenge together?
Have a good cyclamen season.
Olivier MOREL